Ahcove is a large and strange creature. Their head mostly resembles a pig in shape. They have short, cyan blue fur covering their head, with two Orange and blue eyes. Ahcove has 10 gills in total on their head: 4 on the front and 3 on each side of their face. They also have four orange tentacles on each side of their face, connected to a black pattern on the side of his face. Ahcove has a lengthy upper body, being having green and yellow stripes. It ends in dark brown fur, with several tendrils that open like a flower. Ahcove has two arms, both have orange fur at the upper area, and bright blue area. He has three short claws on their left hand, and two claws on their right hand. Ahcove's midsection is also very strange. Their midsection is glass-like, with various pillars of colors constantly rotating around their belly. The glass is held by a small round purple disc with a large spike going up to midsection and connects the glass. This strange midsection emits a sound similar to a music box. Small pink, circular lights are on their disc. Finally, Ahcove has 8 legs, all of them having the same fur that they have on their head. All of them have two toes.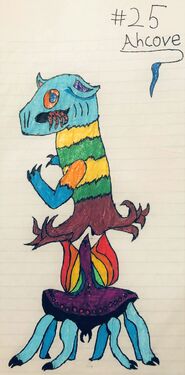 Ahcove is a very reserved, but busy individual. They usually are very helpful to customers of their small shop, and children they babysit. Ahcove always seems at peace when they are at their various jobs. However, when they are not, they seem very stressed, and is always on the move. Ahcove is also addicted to salt and candles.

Ahcove has a few jobs that they do. One such is making colored light bulbs, which they do as a hobby. Another job is where they babysit younger Quatheral members. Due to his ever going music box in their glass section, it helps the young creatures fall asleep. Another job they have is a pawn shop, which customers can trade in a bag of salt for the trinkets Ahcove finds in their journeys. The last of their jobs is to alert the residents when the sun is completely down and when the sun comes up. Ahcove sits upon a hill and will produce a noise loud enough to notify any individual in Quatheral
Ahcove's Signature in Series 3 is the dark blue glass coil in their midsection area.
This is one of Minorbone's favorite creature designs.
This is one of the few times where only the head (and a hand) was shown in the Series 1 drawing, as such, MinorBone had to construct an entire new body for Ahcove.
Community content is available under
CC-BY-SA
unless otherwise noted.